Professional Audio Solutions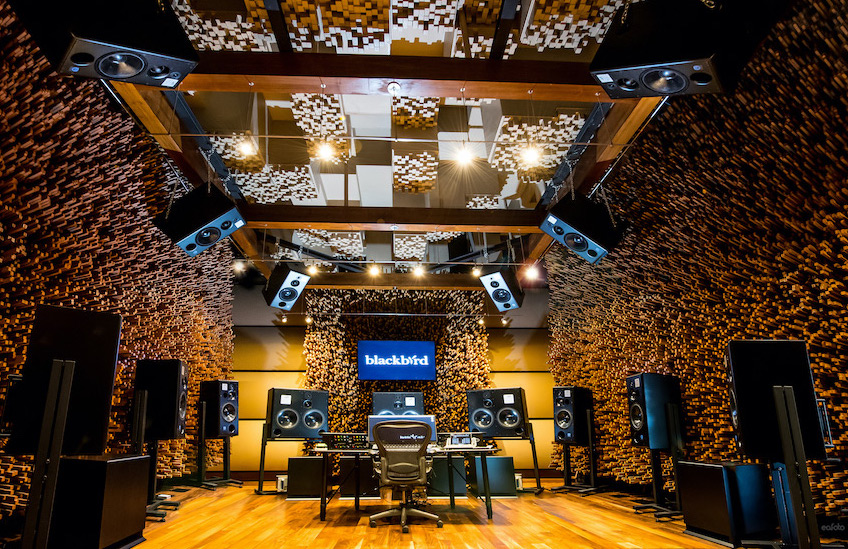 Studio Highlight
Blackbird Studios
In 2019, Blackbird Studios in Nashville Tennessee put Equi=Tech to the test. In a partnership with Dolby Atmos, Blackbird relyed on multiple Equi=Tech wall and rack units to provide clean, pure, noise free power to their George Massenburg designed room of the future. If you ask owner John McBride how he achieved one of the lowest noise floors in the country, he will be proud to show you his tech, his Equi=Tech.
Listen to your media, not your electricity
Mullti room 20WQ Wall Panel Solution
---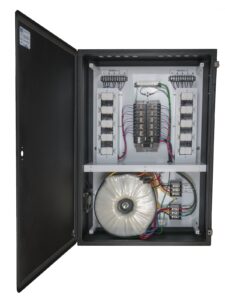 Award winning Equi=Tech 20WQ ( 200 amp ) Wall Cabinet Systems are factory preassembled power distribution centers for hard wiring balanced AC power into a facility – a complete balanced power distribution system built into a wall cabinet. Only minimal installation is required eliminating many expensive hours of labor and hard to find electrical parts. All the necessary components such as transformer, breakers, GFCIs, surge protectors and line filters are factory assembled using the highest quality materials and components. Even though they are there, you most likely haven't heard our units on 1000's records over the past 26 plus years. That's just the way we like it.
2rq single room solutions
---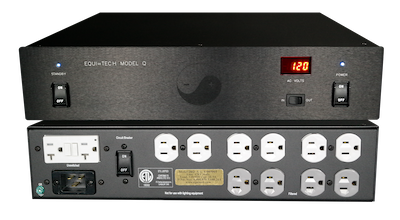 Our RQ rack/floor components are designed to integrate with your existing set ups with minimal impact to your layout. Now you can get professional quality electricity no matter if you are tracking, mixing, mastering or even touring. Every component specified in our designs have been selected from years of research and testing in professional and consumer high definition A/V systems in both analog and digital formats. Each component used has been selected for its superior quality and performance.
Who Uses EQUI=TECH Products?
As you know, we are using an Equi=Tech Model ET2R for transfers and we were so impressed by the improvement that we decided to get the ET10W to run the whole studio. Listening to original master recordings on our system run through the ET2R has been a joy. On "Genius + Soul = Jazz" Mr. Charles located a master that was in wonderful condition and on playback it was like the control room walls had disappeared. I have long argued that AC power should be run this way for studio, so finding your systems has been a godsend. On behalf of Mr. Charles and myself, I thank you for all your help.

Ray Charles Enterprises
The Equitech ET5R at Heitor's project studio is amazing. We're up to the mix stage of the record, and everything is working perfectly. If you ever need an endorsement for an ad, or a referral for others considering Equi=Tech, feel free to call.

Tim Bomba
The Recording Workshop appreciates the "loan" of your Equi=Tech Model ET2R Balanced Power System. During our 20-day trial day period, we installed this in our 16-track Studio C (where we currently have a 24-input Alesis X2 console and two Alesis ADAT digital multitrack recorders) and noticed a significant decrease in the overall noise on the stereo bus and a definite increase in the clarity and quality of the audio produced in the studio. Currently, we are in the process of remodeling Studio C which includes installing a large-format console bumping the tracking capabilities of the room from 16-tracks to 24-tracks (thus increasing the overall power requirements). Once again, we thank you for allowing us the opportunity to test the Equi=Tech Balanced Power System in our studio. You will be pleased to note that we have made Equi=Tech a part of the curriculum, receiving mention during both our System Interface and Live Sound Reinforcement lectures. Since our yearly enrollment consists of 500-plus students from all parts of the globe, this is, of course, no small mention. Include the fact that students who complete the program move on to larger audio venues, ranging from home studios to pro studios, live sound to production houses and you can rest assured that the word is out.

Bill McKinney
Contact US at 888-404-9799
We always love to hear from our customers. Feel free to drop us a line at sales@equitech.com or give us a call during business hours; 8am-6pm PST or EST. If calling internationally please remember to add +1 prior to dialing our 888 number, and leave a detailed message. We'll be glad to get back to you promptly.
Get in Touch